Mission Statement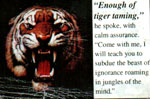 To teach
self-defense based on the realization that true self-defense is defending one's physical, mental and spiritual being from both external and internal destructive forces.
To implement
and promote martial arts training programs through a harmonious atmosphere respective to all races, religions, and sexes.
To investigate
and develop spiritual growth.
To demonstrate
the concepts of our system in everyday life.